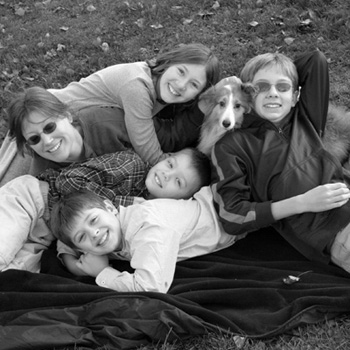 Outdoor portraiture is my specialty - it is wonderful being involved in creating memories you'll treasure. When working with me you are always welcome to help design the shoot in whatever way you wish. Feel free to suggest poses and places - a variety of positions and backgrounds helps me offer you a wide range of great images.

Before the shoot, I'll provide information such as what types of clothes photograph well and other session details. In general, a 40-60 minute shoot is ideal. It is allows time for breaks or a chance for kids to play.

Why do I prefer to select the final photos?
In addition to providing a photo-taking service, I offer expertise for putting together a photo collection that captures varied expressions, moods and relationships. Choosing final images allows me to keep prices low. Rather than charge you for travel and consultation time, I can meet with you, take the photographs, and have a final package ready within eight days for your pickup. Of course, you are welcome to place follow-up orders if you wish, including prints up to 13x19.